Can Love Be Extorted?
A vigilante is determined to end homelessness in Santa Monica, California. His bizarre method makes examples of those who fail to show kindness to the impoverished. Citizens panic, engaging in flagrant displays of public brotherly love as the only way to feel safe outside their homes. Businesses post signs in windows, flaunting perks for the homeless to avoid being targeted. An unprecedented law-enforcement response is stymied and the city becomes a virtual armed encampment. When Mark Denny, a local IT guy, is trapped in the vigilante's scheme he must choose whether to use his skills to maintain the public's fear-fueled generosity, or face his own horrific fate.
Dire Means is a taut thriller that brings you page after page of nail-biting tension laced with moral quandaries.
Free Bonus Material
Get the layout of the underground bunker (The Nest) to see the location of Mark's suite, Pop's office, the Mulching Room and a secret stairway. This map is unpublished and available only to readers who request it. GET IT NOW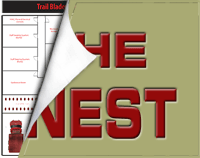 Note: Your email will not be shared. I may notify you about a new release or my next giveaway. You can unsubscribe at any time.
Author's Note
Dire Means was my first book. The final scene sets up the beginning of Prey for Us. You can read them in any order because the plots are otherwise unrelated. But if you are a sequel purist, begin with Dire Means.